On Aug. 10th, 2018. Director of Member and Cultural Construction Department of CEC, Guo Wei, deputy director Shen Lianyuan came to GCL Energy Center in Suzhou with their team to issuing the Vice President's unit Certificate to GCL Group. Gu Qiang, who is Deputy Secretary of the Party committee of the GCL Group, and he represents the Group to meet with them. During the meeting, they has talk about the situation of CEC's subordinate association and some major activities and cultural construction.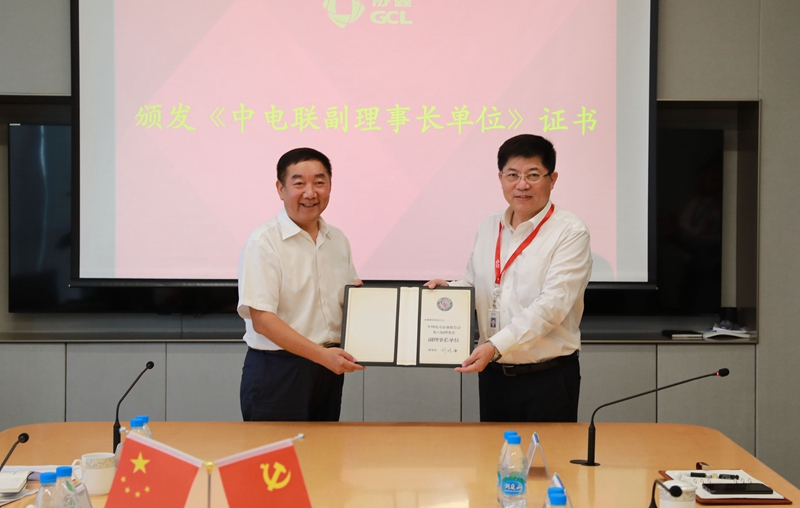 The decision of GCL Group as new Vice president unit and Mr. Zhu Gongshan, chairmen of GCL Group, as vice chairman of the CEC has consideration by the sixth meeting of the sixth session of the CEC in May this year. During the meeting moment, Mr. Zhu Gongshan has published his testimonials. "It's more than just a honor at the highest level of the Chinese power industry, it is a mission and responsibility that along with this certificate to encourage us to jointly promote the sound and high quality development of the power industry", said by Mr. Zhu.
Gu Qiang represents the Group to accept the certificate from CEC, and said that the Group will work hard in the future and to assume the responsibility that come along with this certificate.
At the meeting, Mr. Guo Wei gave a detailed introduction about the secondary association of CEC. He hopes GCL Group and GCL's subordinate company can actively participate in these activities that hold by the secondary association of CEC. Guo Wei gave a brief introduction of arrangement for the recent key work of the association, especially the event of 'The Power Industry achievements exhibition of 40 years's reform and opening up', that will been hold in October in this year. After listening the report of recent working on corporate culture from the Party work Dept., GCL Group, Guo Wei has point out some suggestion. He said GCL Group as member of CEC should actively participated in cultural and sports activities that organized by CEC to create a better corporate cultural environments. .
China Electricity Council (CEC), founded in 1988 with the approval of the State Council of China, is a non-profit and self-disciplinary national trade association joined by Chinese power enterprises and institutions on a voluntary basis. CEC is one of the most influential national industry associations.
Tian Qing, member of Member and Cultural Construction Department. Luo Yong, secretary general of CEAQ. Wei Zhengjia, The marketing and brand counselor of GCL Group. Lv Jingbiao, vice president of GCL-Poly Energy Holding Limited. Fei Zhong, the Director of Party Work Dept.,GCL Group. Ye Chao, Minister of Brands, GCL New Energy Strategy and Investment Dept..Wu Guili, general manager of The Marketing and Brand Dept., GCL-Poly Energy Holding Limited. All of these people attended the meeting.